The distance between my current post (2017) and previous post (2016) was a year, but more exactly 2 months ago. How time plays humans, just like the time in Lala Land. If you have not watched Lala, you must have a catch! Because to different people, this movie means very different perspective and interpretation.
My first 2017 post is about award, oh yes, give me lucky charm!
Before going to Lala Land review, let's congratulation Lala Land on its success in 89th Oscar 2017. And, my prediction on
Your Name (君の名は)
was spot on! But, seriously, Zootopia? Anyway, the full winner list of Oscar 2017 is as follow:
| | |
| --- | --- |
| | |
| | |
| | |
| | Casey Affleck (Manchester By The Sea) |
| | Damien Chazelle (La La Land) |
| | |
| | Mahershala Ali (Moonlight) |
| | Kenneth Lonergan (Manchester By The Sea) |
| | Barry Jenkins and Tarell Alvin McCraney (Moonlight) |
| | Linus Sandgren (La La Land) |
| | Justin Hurwitz (La La Land) |
| | Justin Hurwitz, Benj Pasek and Justin Paul (La La Land) |
| | Sylvain Bellemare (Arrival) |
| Best foreign language film | Asghar Farhadi (The Salesman) |
| | John Gilbert (Hacksaw Ridge) |
| | Robert Legato, Adam Valdez, Andrew R. Jones and Dan Lemmon (The Jungle Book) |
| | David Wasco and Sandy Reynolds Wasco (La La Land) |
| | Kevin O'Connell, Andy Wright, Robert Mackenzie and Peter Grace (Hacksaw Ridge) |
| | Ezra Edelman and Caroline Waterlow (O.J.: Made in America) |
| | Byron Howard, Rich Moore and Clark Spencer (Zootopia) |
| | Alan Barillaro and Marc Sondheimer (Piper) |
| Best documentary short subject | Orlando von Einsiedel and Joanna Natasegara (The White Helmets) |
| Best live action short film | Kristof Deak and Anna Udvardy (Sing) |
| | Alessandro Bertolazzi, Giorgio Gregorini and Christopher Nelson (Suicide Squad) |
| | Colleen Atwood (Fantastic Beast and Where To Find Them) |
So far, I have only watched Lala Land and Suicide Squad. But, for the best film, it was really a horrible experience for the cast as well its supporter (>_<). Just before the Academy Awards, reviews bloom like mushrooms after a night of rain, with old and new ones emerging again, and some good ones.[
Source 1
], [
Source 2
]
Lala Land - The Worst and The Best in Life
It had been a while my mom watched a movie, and, it was a GSC birthday treat* - we decided to go on a date! It was quite an excitement to us, and my mom loved it, as she even rated a 9/10. Just like a long lost feeling, we found love again in a musical movie. As for my rating, let's see.
The movie started off with a very normal and sunny day, where people were trapped in a jam at a flyover. Suddenly, a song just broke in and people started singing and dancing. As the songs went on, a motion was initiated and the leads (Seb by Ryan Rosling) and (Mia by Emma Stone) met in a very unusual bad day of their lives. [I would that admit the beginning of the movie was intriguing, sensual, catchy and somewhat unforgettable. After the movie, I saw an interview about the choreographer of Lala, Mandy Moore, not the same as the singer, who also showcased her work in Silver Linings Playbook (2012)]. Her work really has high standards, I would say.
The Lala Land, starred Ryan Rosling and Emma Stone, was a pure renaissance of the 1950 – 1970s musical movies, such as Grease (1978), Sound of Music (1965) and Dancing the the rain (1961), as well as a modern adaptations such as Glee (2009 - 2015) and Chicago (2002). But, to me, a Hollywood movies addict, the constant and unexpected meetups from night dates and summer parties, bloomed their fated relationship, but, isn't this over-cliché? Boy meets girl, they fall in love, they fight, they break up? But then again, this Hollywood formula, you and I know how things end.
The reality brought by this movie, was the winning ingredient . It was a tale of love, but also a tale of reality. Most of the audiences missed the fact that Seb was a victim of business mishap while Mia decided to their her luck in auditions and all for about 10 years as an aspiring actress, before really succeeded.
Let's look at Mia, she finished her college, say around 21 - 22, then, tried her luck in Hollywood for about 3 - 4 years. By 25 - 26, she met Sebastian, and again tried their relationship for 1 - 2 years. By 28 years old, she gave up acting when all hell broke loose, with her career and relationship with Sebastian (Any inaccurate timeline, please forgive, this is purely my own speculations from the movie). Because of her struggle and age resemblances with the largest group of 80 - 90s populations, it somehow told our stories on the big screen, which garnered so many supporters. And, yes, when we hit hard on the walls, we tend to go back to our parents, just like Mia. Nothing to be ashamed of, because home is where our hearts will always be! It relates so much to me now, how we struggle with mean people in our lives, how we will be like if we never succeed in life. Like my bitchy boss, just keep dragging my work. Like the peer pressures from all over the world, Mark Zuckerberg succedded at the age of 24. I would doubt myself like Mia, and, hope that there is Seb beside me (>_<). You see, this is the magic of Lala!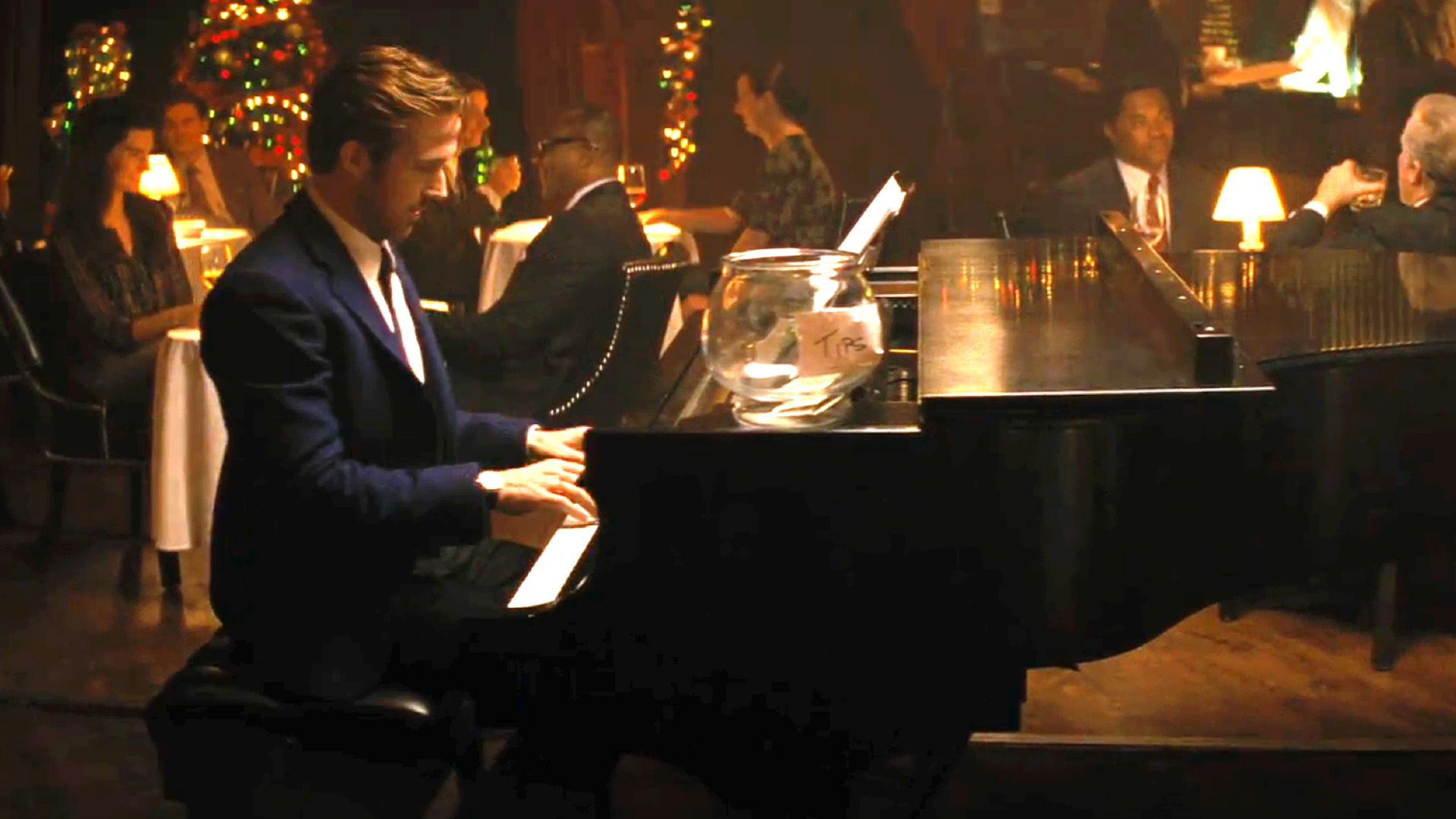 To be honest, Ryan and Emma did a fairly good job. But the overpraising and high appraisal really are overrated.
As both of them are not the typically singing and dancing actor and actress, their performances in Lala were so imperfect that it completed the realness of the movie.
Not every note or every move was pitch-free or smooth, they nailed it by giving emotions. Stone, however, was, in my very very personal opinion, lacked of acting realism, it felt like acting to me. (People gonna kill me for this). But, I still love her and she does not need to accept what I said, because she got a Oscar Award to kill me with. Hahahaahaha!As for Ryan, he had me at the piano! Tall people usually don't look that smooth-moving when dancing, which applies on both Ryan and Emma, but they kinda pull it off.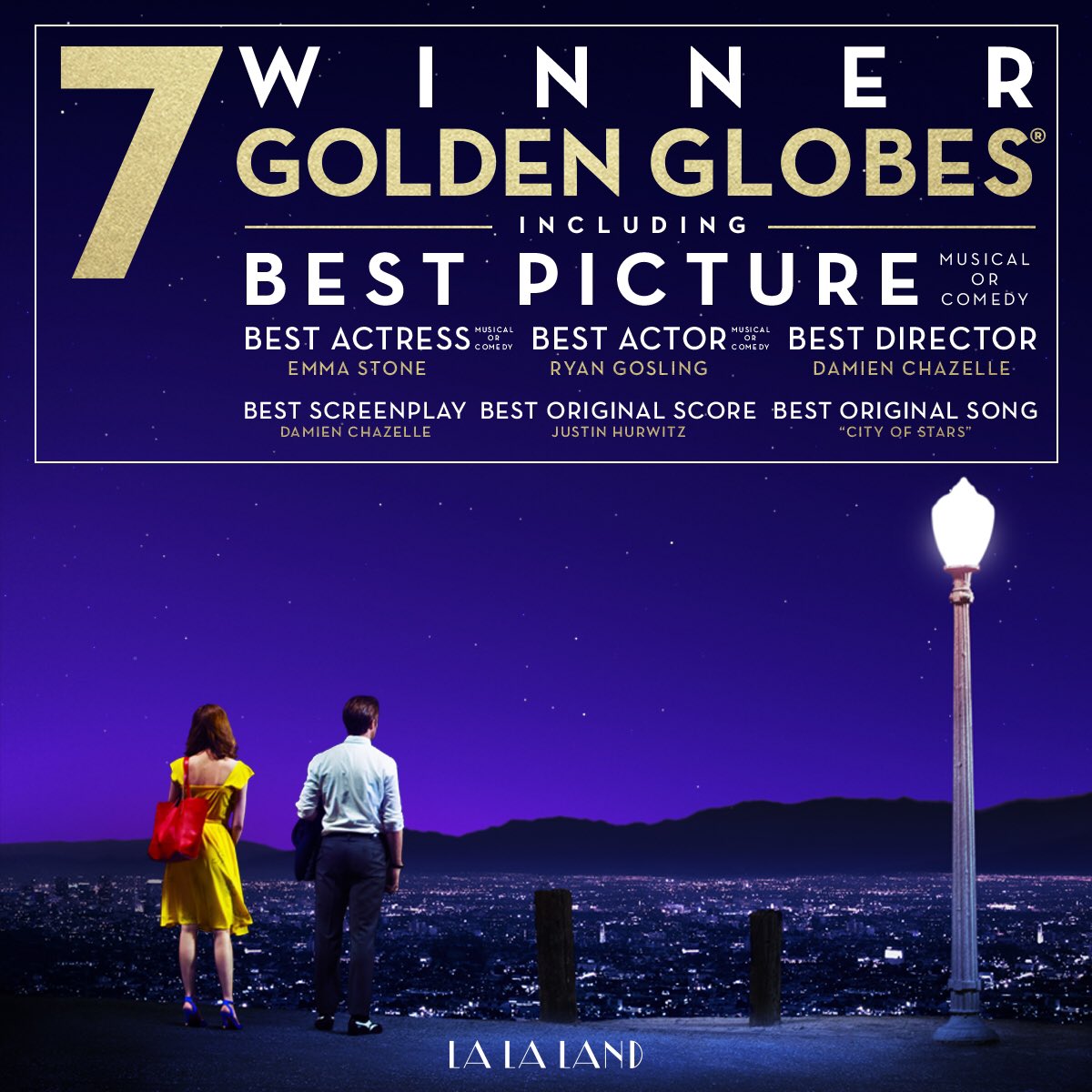 About the last scene, when they imagined how life would be different if they had chosen to be together. But, this was the tricky part - remember after Mia' audition, Seb encouraged to pursue her dreams, even with or without him. She asked him "Where are we?". In my interpretation, she was asking, if I get the role, will you go to Paris with him? No answer from him, or hidden scenes were not shown, I guessed, to create suspension. But at the end, we all knew the answer. We also knew that Mia decided her way, to be successful, you have to be selfish. Obviously, her current hubby was filthy-rich and more successful. And, in my opinion, she was more successful as beautiful wife than an actress. As for Seb, even when he was in his height of career, he sacrificed his dignity for Jazz to realise his dream in another way because of Mia. But, sadly, she did not celebrate his success, more agonising was, she further distanced herself of Seb because of her insecurity. Seb actually pointed out the truth of Mia, which was why Mia was so furious. The last scene to me, was just a fake vision of love because even if they were to be together, they most probably would end up divorce anyway.......
"As beautiful as the songs in your heart might be, one day, they
will
fade away over
the
time. Just the adolescence
of life, will be lost through time.
But, just one night, you might encounter
the
songs again. A pure nostalgi
a
, nothing more, because you know that you cannot go back. Died dreams cannot be revived.
You become someone new on the outside, but inside, traces of the old you still lingers"
Closure: Do check out their soundtracks! I really loved the piano piece played by Seb/ Ryan. One of the best I have heard.
Ipohboyjourney (IBJ): 7.5/10;
IMDB: 8.5;
Rotten Tomatoes: 93 %;
Google user: 88%.